The Baby First Box, an e-commerce website providing all the hospital bag essentials and baby hampers for to-be parents.
Founded in 2019, The Baby First Box, based out of Gurugram, provides curated hospital bags for mothers and baby hampers, compiled as per the baby's age, needs, and weather.
Garima Aggarwal was 33 years old when she was anticipating the arrival of her first child in 2017. Already carrying a mixed bag of feelings, she was tense and anxious and packing her hospital bag was the last thing she wanted to do.
Her best friend, Deepti Gupta, who had been through pregnancy a few years ago, came to her rescue. Drawing from her personal experience, Gupta created a list of essential items that Aggarwal could pack in her hospital bag.
Later, Aggarwal and Gupta shared the same list with their friends and acquaintances to help them out, and there it was–their eureka moment.
The duo came up with the idea of starting their venture— The Baby First Box, an e-commerce website providing all the hospital bag essentials and baby hampers for to-be parents. Everything begins at home, says Aggarwal
Hailing from small towns near Kurukshetra, Haryana, Deepti and Garima had much in common.
"We both come from self-made families who have always supported us, and we both are sort of go-getters who had this unquenching thirst of doing something of their own," Deepti Gupta, Co-founder of The Baby First Box, tells HerStory.

Deepti Gupta, Co-founder of The Baby First Box,

Best friends and Co-Founders: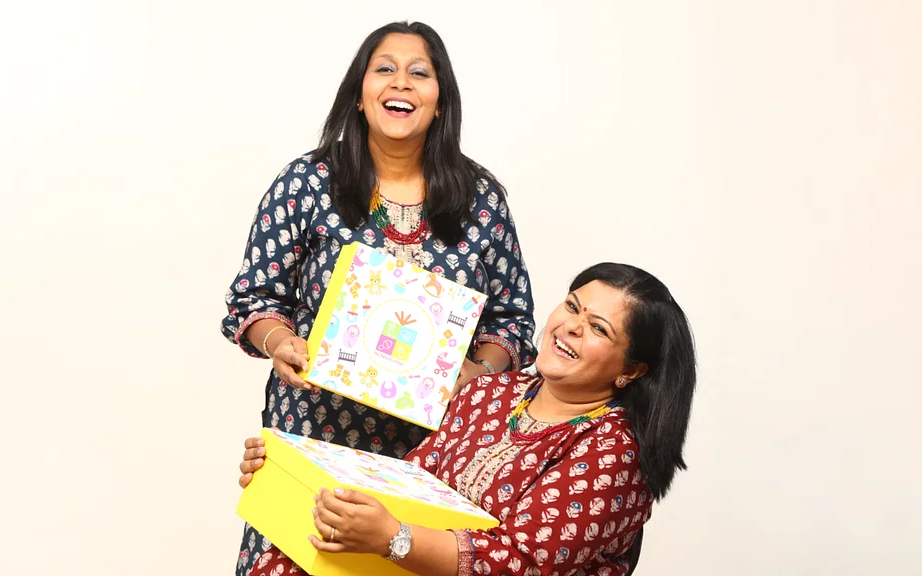 After completing college, they parted ways but never lost touch. Gupta started working as an IT professional while Aggarwal began working as an HR.
We got married after some years and were doing great in our jobs, but life had other plans for us," recalls Aggarwal. Now, Gupta is settled in Pune, while Aggarwal lives in Gurugram. After Gupta's list helped Aggarwal and many other women, the duo decided to take the idea forward and make their brand a household name. In July 2019, they started with a Facebook page and later built a website at the beginning of January 2020, they tell The Professional Times.
"For almost six months, we interviewed first-time mothers and second-time mothers and fathers. The common problems we found out were—' I don't know what to pack in my hospital bag, or I know my sister is pregnant, but I can't find any gift for her,' and those were the gaps that we targeted to fix with our business," Aggarwal says.
We started with just a Facebook page as at that time our target audience, i.e., expecting mothers, were very active on that platform, she adds. Being an IT professional interested in technology, Gupta took up technical work in the business.
In contrast, Aggarwal, who comes from a management background, helped the company build and nurture its connections. The diverse skill set of the founders and the long, profound foundation of their bond has worked well for these mompreneurs.
The 'Jaadu ka Pitaara' is A hamper for a baby girl. After serving more than two thousand clients, Aggarwal chronicles the feedback they received that has stayed with them–'Yeh box toh Jaadu ka pitaara hai, saman khatam hi nahi hota.'
The Baby First Box provides baby hampers typically containing clothes, reusable cloth diapers, wipes, lotions, and other baby care products. Chicco, Mothercare, Miniklub, Luvlap, Pigeon, Nuby, Quick Dry, and First Step are some brands the company has collaborated with for its baby hampers.
Our hospital bag is a complete kit that makes new parents' parenthood journey easy and comfortable. We provide feeding kits, breast pads, dad nursing aprons, and many other such products for the parents

explains Agarwal

The startup offers various hampers—from pre-curated to budget-friendly, customised ones in reusable boxes. The hospital bags and baby hampers are priced in the range of Rs 3,000 to Rs 3,500, respectively.
According to Aggarwal, the company's target audience consists of expecting parents who need all the essentials for their newborn. The company sells its products on its website as well as on e-commerce platforms like Amazon and Flipkart.
It also follows a 60:40 ratio where the former represents the products purchased from trusted brands, and the latter is manufactured by the startup.
These products include front-open clothing for the child's comfort, warm sweaters, vibrant swaddles and wraps, and tailor-made little crochet rattles that help the newborn in the teething phase. To manufacture these products, the entrepreneurs have employed women from rural areas across the country.
These women are in close contact with a local supervisor who is responsible for providing them with the raw materials and salaries. This initiative provides employment opportunities for women in rural areas and helps support local communities.
The company has so far employed more than 35 women mainly from rural areas of Punjab and Haryana. It is not only a women-based enterprise but is also driven entirely by mothers.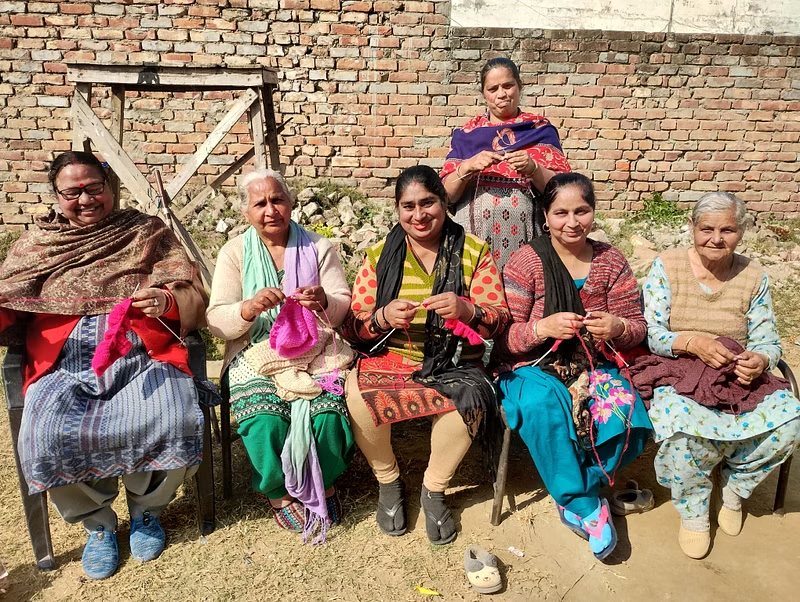 Roadblocks paving the way to success From shipping to around 10,000 pin codes in India to securing more than 20 corporate clients and having 25% repeat customers, these mompreneurs are leaving no stone unturned to make it big in the baby product market.
However, balancing motherhood with a business was undoubtedly a challenging feat. "As mothers, we knew both things are important and both need our time. We learnt the art of prioritising important tasks and devoting time to our babies. There are days when one takes a back seat because of another, but we always try to strive for the right balance," says Aggarwal.
With established brands like Pampers and Kicks and Crawls, the baby product market is highly competitive, making it even more challenging for new brands to build their name.
Speaking about other challenges they faced, Aggarwal says, "In India, people do not buy products before childbirth, and not many couples buy hospital bags for themselves
We have an 80:20 ratio, where the former per cent of bags is ordered as gifts whereas parents order only the latter as many of them are too sceptical about trusting anyone."
They also had a tough time securing their first client. Aggarwal says, their first client was a house help, and slowly, with word of mouth, they managed to scale up their business.
Our want for innovation, implementation, failure, and re-innovation has aided our growth. We developed the trust by telling parents that these boxes were being curated and packed by two moms themselves

Adds Agarwal
The duo also faced challenges being women innovators. Aggarwal recalls being called out for not knowing business terms or being too educated while dealing with local vendors.
However, she believes women need to be assertive to be heard. "We didn't have that godfather on our head. We crawled and took baby steps to build our dream," Gupta adds.
Way ahead:
The women entrepreneurs bootstrapped and started the company with Rs 1 lakh investment.
The Baby First Box generates nearly 65% of its revenue from online marketplaces such as Amazon, Flipkart, and Meesho; 25% comes from corporates; and the remaining 10% from its website and references. Since the corporate channel has picked up, the entrepreneurs are now focused on increasing their footprint in these organisations.
They also plan to collaborate with toy companies and make their products available in hospitals and pharmacies. The company is also looking to raise external funding to scale its operations as well.