Ziona Chana from Mizoram has 39 wives, 94 children, 33 grandchildren, 14 daughters-in-law and 1 great-grandchild who live together as one big happy family in the same house!
He has a total of 181 family members! He married his first wife in 1959 when he was 17 years old to Zathiangi, who is older than him by three years.
She controls the household activities of the family with strict discipline. Ten of his wives he married in one year. Ziona is now 79 years old. He was born on 21 July 1945. The family is now living in Baktawng village in Mizoram, India.
Ziona is chief of the group known as "Chana Pawl", which was established by his father. He built a four-storied mansion which appears like a boarding house, to accommodate his large family.
The house is called the "Chhuan Thar Run" or the House of the New Generation and is located in the mountainous village of Baktawng. There is also a 'Khualbuk' or a guesthouse to accommodate visitors coming to the village.
Ziona has a double bedroom on the ground floor of this mansion and his wives take turns to sleep with him according to a roster. His younger wives stay close to his room on the same floor and there are always seven to eight wives attending to his needs during the day.
All older wives live in the dormitories on the mansion's first floor, while his younger wives live on the ground floor.
His wives claim that there is no rivalry among them. Of his 39 wives, 22 are below the age of 40 and they get a week to spend with him. He has 26 sons-in-law and his daughters live separately with their families. He says that he has named all his children and grandchildren and he remembers the names of every member of his family.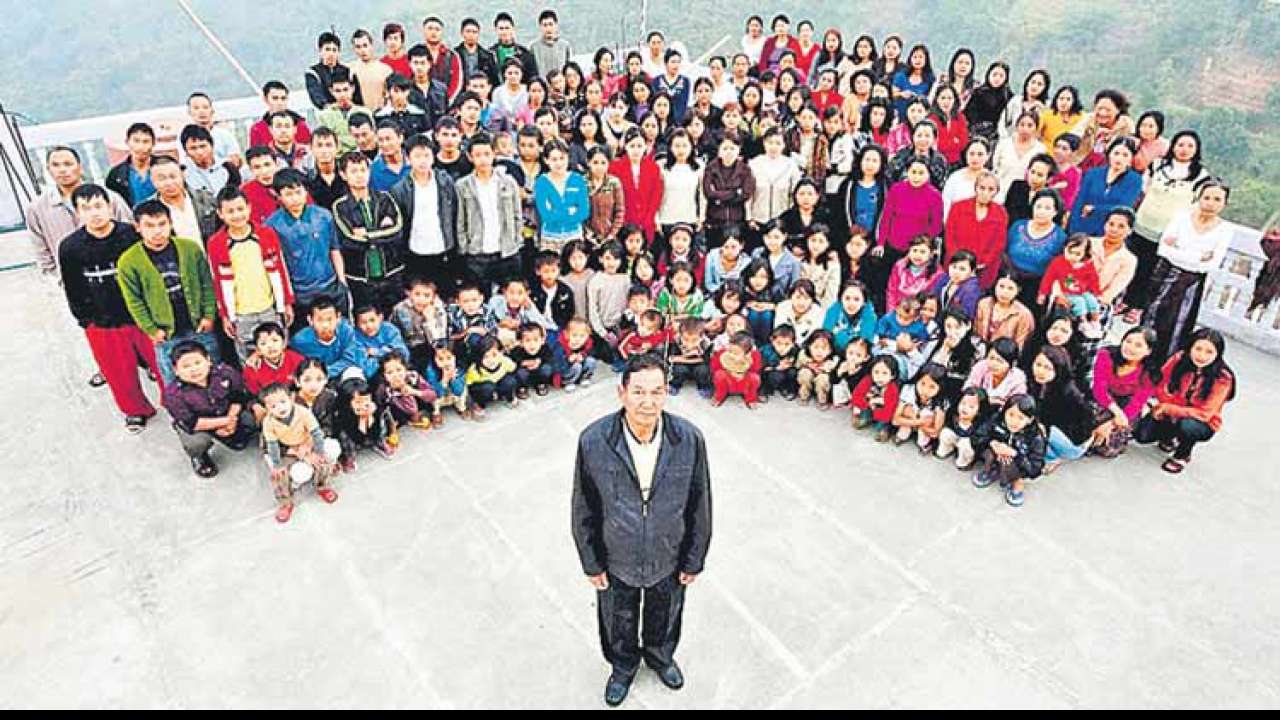 Ziona's family is self-reliant, growing crops for their food requirements. He has also established a school for his children, and his younger brother looks after its functions. Though teaching in the school is based on a curriculum prescribed by the government, he has added some subjects specific to his Chana sect.
He does not seek any assistance from the government. Ziona's wives do the cooking, and his daughters attend to cleaning the house and take care of washing laundry.
Men of the family attend to livestock rearing, agriculture (jhum cultivation), small cottage industries of wood furniture (carpentry), aluminium utensil making, and so forth. Ziona's 68th birthday was celebrated on 21 July 2013 with 150 guests.
Ziona Chana has recently passed at the age of 79.
About Post Author