Jessica "Jake" Tafoya had the dream for her own beauty business years before she had her own beauty business. The gap of time between both is just one of the things she credits for helping her build a business worthy of her dreams. Another top reality in her life that she credits with helping her get to where she is — her Latinidad.
"I embrace my Latinidad as my identity and additional fuel to give me the strength to overcome every failure and detour set on my path," explains Tafoya. "Through the close bond of my family, I have been able to remain challenged and fully determined to reach my goals.
Our culture is one to celebrate and learn from as we carry certain characteristics that will help us flourish from both a personal and career perspective."
Now as the owner of The Mod Labb, a Texas-based hair salon, she builds upon what her family taught her by creating the atmosphere for other women of colour to feel the same way.
"I saw a significant gap within the beauty industry and wanted to create an environment where we celebrate every hair texture and skin tone while empowering the multifaceted woman," shares Tafoya. 'We strive to give our guests a place where they feel welcome and where their needs are understood and met.
We encourage each one of our customers to strive for self-love, to feel confident and love who they see beyond their reflection in the mirror."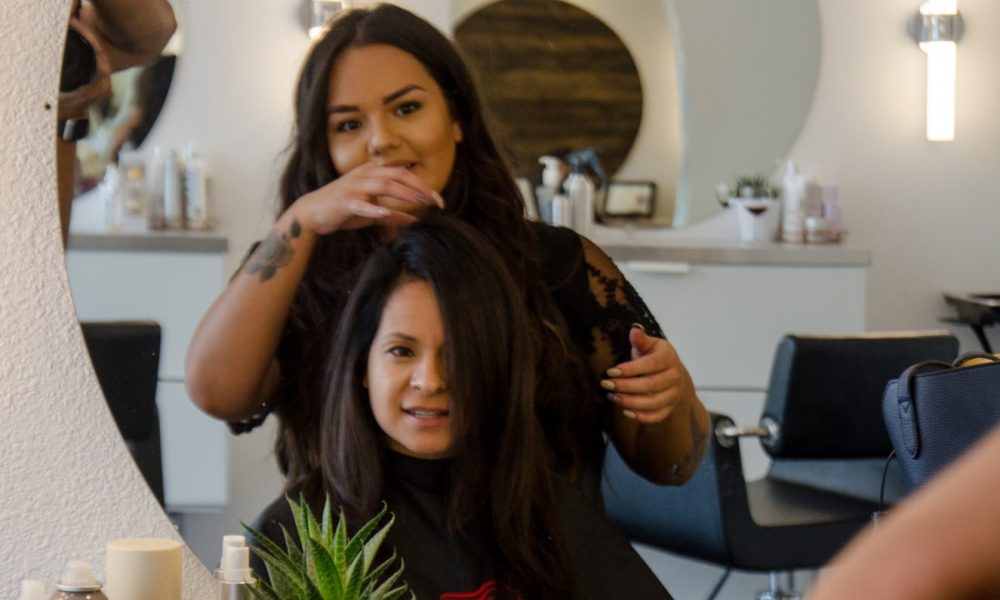 As she's built her business, Tafoya has stockpiled small business lessons, thought about advice she would give others who are just getting their start and reflected on how timing is just one piece of the puzzle.
Don't be afraid to both wait and to jump
As a business owner, understanding where your business sense and gut lead you is a big part of making decisions. For Tafoya trusting her gut and that she had the skillset to figure things out as she grew is what made it possible to start her business earlier than she'd projected herself to.
"The beauty of life is that there are times when your plans don't roll out the way you've imagined," shares Tafoya. "My initial plan once I graduated hair school was to acquire five years of experience before investing in opening a salon of my own. I wanted to feel prepared when I took that leap.
However…in 2013 (only three years out of hair school), a series of events landed me in a 400 square-foot space that became the first The Mod Labb location. I trusted myself that it was the right time and never looked back."
Know you'll have to give as much as you want to get
The road to starting your own business or launching your own hustle is filled with moments of sacrifice. While it may not be the most highlighted part of entrepreneurship it is the foundation upon which dreams are physically built.
"When someone is considering entrepreneurship, the first thing I ask them is 'what are you willing to sacrifice?'," notes Tafoya. 'Entrepreneurship is made of a series of sacrifices and failures, a dose of optimism, the continuous will to problem solve and a dash of faith.
I can give anyone a roadmap of my entrepreneurial journey that highlights everything that went right, wrong and potential detours. However, at the end of the day, I know for a fact that each entrepreneur will have a different journey because our individual stories are so different even though our common goal is a beautiful victory."


Practice self-development as much as you do other technical skills
A significant part of being a business owner is having the self-awareness to know when there's room for improvement, both in your company and in yourself. Tafoya encourages Latinas to practice owning their wins and improving on their weakness, all without needing to be self-defeating.
"Champion yourself, your ideas and your future," encourages Tafoya. "No matter what — believe in yourself…When building a business there is the boundless number of errors and detours that you will have to face.
However, if you don't take time to briefly reflect on them you're bound to build bad habits. Take the time to learn from yourself and others to avoid delaying your success."
Prioritize your team's needs 
"There is one very important strategy that is crucial to any business, no matter the size or industry — taking care of your team," shares Tafoya. "As a leader, it is important that each team member's voice is heard and championed.
I give them the necessary space to make their own decisions and celebrate their mistakes as risks while offering solutions. I am a firm believer of 'the more you know, the more you thrive' [and] I embed that into my team structure inclusive of having honest and transparent conversations so we can help each other become the best version of ourselves."
As Tafoya shares, being a leader and business owner is more than just the logistical to-dos that must get done every day. There's a need to balance both how you're developing personally and how you're empowering your team to do the same.
About Post Author